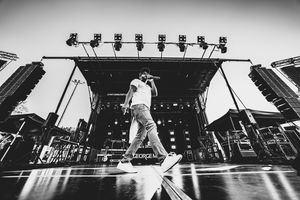 We are very excited about the opportunity to partner with you! Before you submit your online offer, be sure that you have read the General Concert Requirements and Booking FAQ's section below. After you submit your offer, you will hear from our team within 3 business days.
GENERAL CONCERT REQUIREMENTS
This general information is intended to cover the basic needs of a typical concert.

Unless otherwise agreed upon, the sponsor is required to provide all staging, sound, and lighting, as well as all the necessary personnel to operate them.

There may be times in which the sponsor will be responsible for providing a drum kit, and additional instruments, amplifiers etc. (this is usually true of dates in which travel includes flights).

A basic setup would look something like this:

STAGE
20' X 30' (typical stage size) complete with a backstage area (a place to eat, prepare and pray, usually called the "green room"), side entrances, and a drum riser (typically 8' X 8').

SOUND
Mixing board complete with graphic EQ, effects processor, and capable of a minimum of 3 monitor mixes. Enough amps and speakers (including sub-woofers) to satisfy the rooms sound needs comfortably (generally no less than 2000 watts of power). Microphones would include a complete set of drum mics, high quality hand held vocal mics (typically 3-4), and direct line boxes (4-6).

LIGHTS
Lighting is important and often overlooked. Good lighting should include focusable front lighting, usually white (canned lights and/or a follow-spot) and an array of colored lights illuminating the stage and players. The lights should be controlled by a light board that has various chases and settings so as to follow the tone of the performance. Important--fluorescent lights or normal house lights do not make for effective stage lighting and should be used for house lighting only.

POWER
Clean, easily accessible, and reliable electricity is important. There should be enough circuits so that the sound, lights, and instruments are all safely on different circuits. Be sure to locate the circuit breaker in case of a power failure.

OTHER REQUIREMENTS
In addition to the preparations for the venue and the stage, there are other things that need to be thought of when inviting an artist to perform at your event. Keep in mind, we are sometimes on the road for weeks or months at a time and your thoroughness in completing these requirements is much appreciated.

TRANSPORTATION
If we are flying to your event, make sure that someone is there to pick us up at the airport with a vehicle that is large enough to handle our crew, luggage, and equipment. For a typical group of 3 to 4 people, a mid-size SUV or Van is adequate. We may also need a vehicle, or a runner to help us get around town for personal needs (going to hotel, running errands, etc.)

LODGING
A quality hotel is requested unless other arrangements have been made. Most hotel chains are sufficient. It is important to reserve clean, quiet, non-smoking rooms at a hotel close to the venue, convenient for shopping and dining if possible. Payment for the rooms should be made in advance and confirmation information should be provided to us before arrival.

MEALS
If under the terms of the contract you are to provide meals, please keep nutrition in mind. We prefer to eat light or not at all before performing and have a full meal afterward. You have the option of providing a per diem for meals. Plenty of room temperature bottled water should be available at all times.

CONCERT MANAGEMENT
Upon arrival, and until the very end of the event, there should be a concert manager. This person should know everything about the event, be available at all times to answer any questions, and help solve any problems.

MERCHANDISE
Please provide two 8' tables and several chairs in the concert area's lobby entrance for merchandise. We will also need 2 responsible volunteers to operate the selling of product. No concession fees or percentages will be paid to the promoter or venue without prior written consent.

Prayer Time - Finally and most importantly, we ask that you and your staff pray for the event. Pray for the people, the artists', and any specific needs for the event. We would like to meet with you and your staff in prayer shortly before the event begins.

We thank you in advance for your efforts--please feel free to contact us if you have any questions about how to prepare for your concert or event.
Q: HOW FAR IN ADVANCE SHOULD I BOOK AN EVENT?
A: About 12-16 weeks is recommended but not always necessary.

Q: HOW MUCH DOES IT COST TO BOOK AN EVENT?
A: There are a number of different circumstances that play into the final contract price of each event. Please just submit your offer with the details of your event for a price.

Q: HOW LONG DOES IT TAKE TO GET A RESPONSE?
A: We work as hard as we can to give you a response within 72hrs after you submit your offer.

Q: WHEN ARE PAYMENTS DUE AND WHAT FORM OF PAYMENT DO YOU ACCEPT?
A: We do require a 50% deposit to hold the date. The balance will be paid on the day of the show. We accept cash, money orders, cashier's checks, and Paypal (+transaction fee).

Q: IF I CANCEL THE DATE DO I GET MY DEPOSIT BACK?
A: Unfortunately, all deposits are non-refundable. However we will gladly work to reschedule the event with you at a later date.

Q: CAN I GET A DISCOUNT IF I ONLY WANT GEORGE MOSS TO DO A FEW SONGS?
A: The cost of booking is for a daily rate. There are no discounts based on set length.

Q: WILL GEORGE MOSS COME OUT FOR A FREE EVENT OR LOVE OFFERING?
A: Unfortunately, due to the cost of operating, we are typically unable to do free events or love offerings. However, we do recommend you take advantage of the following tips to help offset or raise a budget for your event.
Tip #1: Collaboration
Collaborating with other organizations has many benefits, including the ability to pool everyone's resources together.
Tip #2: Company Sponsors
Approach local businesses in your area to be a sponsor for the event. Offer them logo placement on all promotional materials, and mentions in your radio ads. You can also offer them to place their company ad, or coupon on the back of the tickets for the concert
Tip #3 Collect an Offering
Ask your church and each church that you collaborate with to take up a special love offering for the event.
Tip #4: General Fundraising
You can always do a bake sale, car wash, or other types of fundraising activities for the event. Be creative!
Q: CAN GEORGE MOSS STAY AT A CHURCH MEMBERS HOUSE?
A: For safety and convenience we generally prefer to stay in hotels.

Q: CAN I SCHEDULE RADIO INTERVIEWS OR IN-STORE APPEARANCES TO HELP ADVERTISE?
A: Absolutely! We strongly encourage the use of radio and retail outlets to help promote your event. Just be sure to make proper arrangements with the road manager BEFORE you confirm them.

Q: WHERE DO I GET PROMOTIONAL MATERIALS?
A: Most of the promotional materials that you will need can be found on this website. If you can't find what you need here, your contract will have the name of the person that you need to contact to get more materials.

Q: WHAT IS A VENUE?
A: A venue is just a fancy name for the building or place to have your event. (i.e. church, concert hall, auditorium).

Q: WHAT IS A MERCHANDISE FEE?
A: Most large auditoriums and theaters have a 10-25% merchandise fee that they charge on all merchandise sold in their facility. This is standard, but sometimes negotiable.